ENVIRONMENTALLY CONSCIOUS
DESIGN SERVICES
OUR CULTURE
Envision Mechanical Engineers, Inc. strives to provide our clients with insightful mechanical consulting engineering services. Our focus on complete and thoroughly coordinated contract documents ensures accurate design and client satisfaction. We offer progressive coordination using 3-D Building Systems design tools to integrate all aspects of Architectural and Structural elements with mechanical systems.
Envision is a member of the USGBC and our principal engineers and senior designers are LEED Certified Professionals, leading the way to environmentally friendly design. We have over 50 years of combined experience with the mechanical design throughout Colorado and the adjoining western states.
Johnson & Wales Treat Hall
Envision Mechanical Engineers Inc. provided professional engineering services for renovation of the existing shell building Treat Hall at Johnson and Wales University. The four level building includes a basement and is planned to be completely renovated. The basement is to include student services, the student center and addition support areas offices. The first and second floor included student services, the student center, hospitality and support areas/ offices. The third and fourth floor included hospitality/ culinary support office with some additional support spaces. The total square footage of the new renovated building is approximately 56,000 square feet. The mechanical system upgrade includes a heating and chilled water plant with multiple indoor VAV air handling units to provide heating, ventilation and air conditioning throughout the building as required for type of occupancy and comfort control. Also included was the kitchen grease exhaust, domestic heater water and grease waste system as required for specialty areas at student center kitchen and service areas.
LEARN MORE
Testimonials
We have had the privilege of working with ENVISION on numerous projects for the past ten years - from larger new buildings to difficult and challenging renovation projects.  They are our "go-to" mechanical consultant for a vast majority of our work.  We greatly appreciate their commitment to principal involvement, creative problem solving, and thorough coordination efforts.
Bruce Larson
Principle
Larsonincitti Architechs
SLATERPAULL | Hord Coplan Macht has completed over 100 projects with Envision Mechanical Engineers. Nick, Jay, Jerry and the entire staff are excellent to work with. They know how to design excellent systems that meet the projects goals and exceed Clients expectations.
Jamie Pedler
Managing Principal
SLATERPAULL | Hord Coplan Macht
We have had the privilege of working with Envision Mechanical Engineers over the past years on many different projects. We have built a great relationship with the staff. They are able to work together and use great communication in and outside of the office to get the project finished. The hard work of all the employees have helped make projects a success. We will continue to work with them in the future.
Micheal Lopez
Jefferson Country Schools
Envision is hands down my favorite mechanical engineer, their core values of honesty, integrity and putting the client first parallel mine, they are an integral part of my team and a pleasure to work with.
Brian Townsend
Vice President
JHL Constructors, Inc.
I keep coming back to Envision because of their solutions-oriented, budget conscious approach and because I can trust them in every deal we bring them into. Their team is a pleasure to work with.
Brad Schmahl
Vice President
JHL Constructors, Inc.
DLH Architecture has relied on Envision Mechanical Engineering since Nick Sauer formed the company in Castle Rock.  Relied is the correct word, in the fact that we know their systems will work as designed and our clients will be satisfied with both the air and water sides of the completed project. Envision's loyalty, integrity, and service is without question and their response time is sometimes, quite frankly, amazing.Not only does Envision excel at communication and coordination with DLH Architecture but with the entire design team.  They are not perfect and we do not expect them to be but they stand behind their work product and their ethics are unsurpassed DLH Architecture will continue to work with Envision on our projects and support them architecturally on their projects.
Dave Hieronymus
DLH Architecture
Having worked with Envision for well over 10 years, we have come to appreciate the relationship that we have built. Whether working on plan and spec jobs or partnering on design build projects, Envision's people have always struck a fine balance to make sure that first and foremost, they design systems that work well for the owner's needs, but also keep in mind that the projects have to be physically built. They have always helped to resolve the problems that arise in construction with solutions that maintain the integrity of their design and also deal with the constraints of the construction world. As a contractor I appreciate and respect this greatly. I value the relationship we have built and look forward to our continued association.
Bill Larson
A&L's Sheet Metal Inc.
SUSTAINABLE DESIGN
Sustainable design may be defined as a design which seeks to reduce the negative impacts on the environment, health and comfort for building occupants, and improve building performance. The general concepts behind sustainable design are to reduce overall consumption of non-renewable resources.
LEARN MORE
Prairie View Middle School, Brighton School District, LEED Gold.
OUR EXECUTIVE TEAM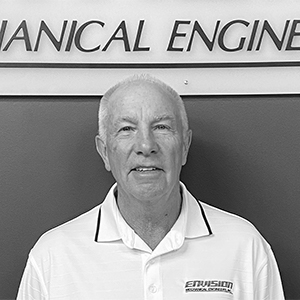 Nick Sauer President
Jay Ferrare Vice President
Jerry Bivens Associate
Afton Schuchman Associate